LAG 2016 (Letnia Akademia Gier)
As participants of LAG Game Jam 2016 in Cieszyn (Poland) we were working together with colleagues from Czech and Polish universities on these games.
The game names were randomly generated.

Revenge of Yak Star
It is a puzzle based narrative explorer game set in inhospitable enviroment of ancient Mongolia. Storyline is based on old mongolian fable about yak, tiger and fox, which is full of intrigue, betrayal and revenge. Player controls unnamed hunter that is lost in wilderness and loose consious near old temple ruin. After being approached by spirit of the tiger, he put himself on dangerous trial to free captured spirit of the yak.
The game won "Voice of the audience" award at the LAG2016.
TEDI Games member Juraj Mikula participaded in team RED creating this game and he was working on ingame particle elements, graphic effects and draft of a level layout.
Concept arts:
Ingame screenshot:
Ingame video:

---
Lethal Blimp vs Street Fighter
Game makes fun of 80's action movies and american stereotypes from that era.
Playing as a "super cop" the main hero flies to the rescue when the communist blimps attack his city.
Full of neon, billboards and blimps, it's an action packed and silly game with themed music from the era.
TEDI Games members who participated on the project (TEAM PURPLE):
Dalibor Bartoš: 3D assets and 3D props.
Bystrík Novák: intro, outro editing, 2D assets.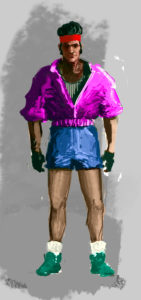 Ingame screenshots:
Ingame video + intro & outro: